Are you considering building a deck but are unsure if you need an engineer? Or perhaps you have begun your work, realized you've bitten off more than you can chew, and are wondering whether it's too late to call an engineer?
Whatever the reason that brought you here today is, we have the answers for you! We will walk you through if you need an engineer to build a deck, highlighting all the times that they could be valuable and when to call one.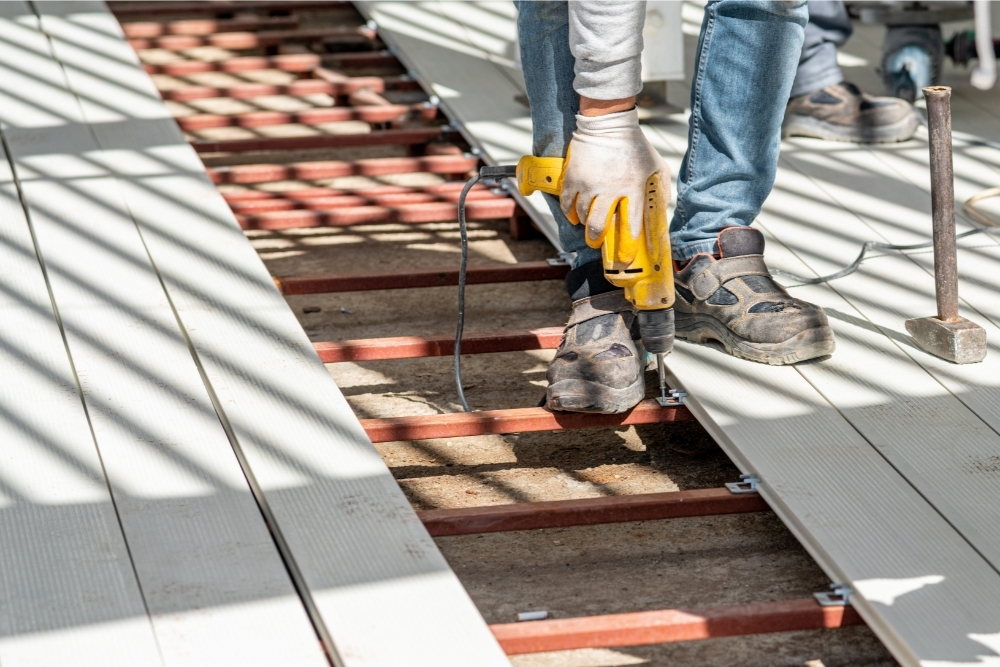 Keep reading to find out exactly when you should call an engineer for help with your deck!
Do you need an engineer to build a deck?
No, you don't need an engineer to build a deck. Most homeowners will build their deck themselves, usually as a spring or summertime project to make their garden more enjoyable in the warmer months. It's a fantastic DIY task for many, although there is more work to it than people realize!
You need to plan the deck, its underneath, and foundations and ensure that it is structurally sound. Providing that the ground you are working on is level is often a straightforward task, but for those with sloping or uneven gardens, installing your deck can be a little more challenging.
Not that it should put you off! You will just need your measuring tape and some more thinking time with a pen and paper than those with straightforward gardens.
If the deck that you are building is relatively small, low to the ground, or on a flat surface, the chances are that you won't need an engineer to help install your deck or provide you with any assistance.
However, if your deck is going on sloped or uneven surfaces, has varying heights, or is simply a more complex design, then it's best to get the experts in!
An engineer will have more experience and expertise in this area than the novice DIY-er and ensure that the deck is structurally safe and meets any criteria set out by the city or state.
Although you don't need an engineer to build a deck, in these cases (and a few others), it can be extremely helpful to have an engineer build your deck.
Suppose you don't opt for an engineer, and that's entirely your choice to make. In that case, we recommend that you check with your municipality, city, or state officials for any permits or regulations that your decking needs to meet before undertaking the work. The last thing you want is an official telling you to tear it down!
Check with your Homeowners Association if you have one, too, to ensure that your deck is allowed and meets any criteria that they have set forward.
Similarly, if you live in a rental property, you should obtain permission from your landlord before undertaking any work on the property. In these instances, it's best to secure written permission so that you always have proof of your conversation with your landlord.
Now that we have covered that an engineer isn't essential in most cases let's look at when you should call an engineer for help on your decking.
When should I call an engineer?
As we mentioned earlier, you should consult an engineer if you are building a raised deck or one that includes different height levels. Here a structural engineer will ensure that the decking is structurally safe and meets any safety requirements or other criteria that apply in your local area.
It's also worth contacting an engineer if you aren't the most DIY savvy person. Instead of enduring through a difficult task, making mistakes, or even harming yourself, it's best to pay for an engineer to complete the work for you.
In these cases, you will need to factor in the added labor costs to your budget, but if you feel uneasy about undertaking the work yourself, it's often money well spent!
And even if you do complete the work yourself, it's often worth having a structural engineer come and inspect the finished result too. Yes, you run the risk of needing to make adjustments, but having the seal of approval from a structural engineer can provide you with peace of mind and the reassurance that your deck is safe for use.
If that doesn't appeal to you, you can have a structural engineer or an architect inspect your decking plans before you begin your work. Here an engineer and an architect can inspect the plans and the proposed land, ensuring that they are safe to carry out and offer adjustments or feedback where needed. For more complex deck designs, it's worth having an architect or engineer check them over.
They can also offer advice on how to attach the deck to your home, provide recommendations for the materials used, and even refer you to contractors if you feel the work is too much for you to undertake!
While there is an added cost to hiring professionals to check your plans or deck, it will offer you the confirmation that your deck is structurally sound and unlikely to cause harm to anyone!
It's also worth checking if your city or state rules require you to have an engineer approve the deck as part of your permit. In these cases, there's no getting around it, and you will need an engineer to visit your property and complete an inspection of your decking and any underlay you have built too. When you secure your permit, check if this is a required step or not and factor the added cost of this into your budget.
Final Word
And just like that, we have reached the end of our deck journey today! As you can see, you don't often need an engineer to build a deck, but if it's a complex task involving different levels, it's best to have an engineer build your deck. Your safety and others using the deck should be your top priority, and an engineer will ensure that all safety criteria and standards are met.