Outdoor furniture sets bring life to our backyards and patios. However, outdoor fabrics can build up debris and grime from being in nature for so long. So, how can we clean and restore our outdoor patio cushions?
Most outdoor cushions can be cleaned by removing cushion coverings, washing the covers and the cushions gently, and letting the fabric dry. You can hand wash, machine wash, or gently pressure wash your furniture. Restore your furniture to increase longevity and revitalize how it looks.
Each fabric and product will have different needs. Some can handle harsh cleaners, while others need a more delicate touch, so it's important to read all labels before beginning a deep clean. Here's everything you need to know about cleaning and restoring outdoor patio cushions!
How Can I Clean and Restore My Outdoor Cushions?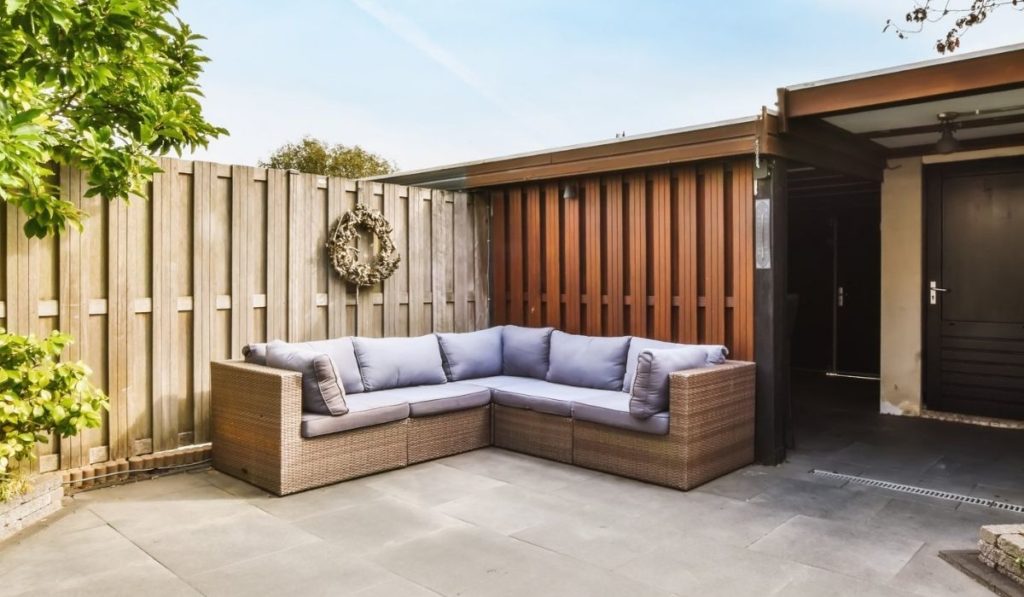 Outdoor cushions can gather dirt, mold, mildew, and other debris from being outside in nature. It's crucial to wash your outdoor cushions and furniture to keep them lasting as long as possible. There are many different ways to clean outdoor cushions and furnishings, including natural solutions.
Here's a quick list of what you might need before beginning:
Vacuum with an upholstery attachment
Natural cleaning solutions can benefit your furniture sets and the environment. For a natural outdoor cleaning solution, you can use vinegar. Mix ¼ cup distilled white vinegar to four cups of warm water in a spray bottle.
Use this cleaning solution as you normally would, letting it sit for 15-minutes without completely drying. From there, rinse and air-dry as normal.
This natural cleaning solution will work well on most fabrics and materials. However, be sure to check any labels or with your manufacturer before using them. If this solution isn't effective, you may need to deep clean your cushions.
How to Deep Clean Outdoor Cushions
Deep cleaning your outdoor cushions and furniture sets is necessary to keep them in proper shape. This process can be straightforward and even meditative. Regularly deep cleaning will keep your products alive and well for the long term.
Step 1: Remove any washable coverings.
Some outdoor furniture sets have removable coverings. These coverings can typically be easily washed in a washing machine. Be sure to check the labels or the manufacturer's guidelines to see what your furniture requires for cleaning.
Step 2: Clean any loose debris
You'll want to be sure to clean any loose debris. These could be leaves, dirt, mold, or other unsightly objects. You can use an upholstery attachment on a vacuum to get a deeper clean. You can find upholstery brushes (on Amazon) for under $10.
Step 3: Use a cleaning solution
After you clean any debris, it's time to use a proper cleaning solution. All surface cleaners like the Star Brite Heavy-Duty Fabric Cleaner Spray (on Amazon) can work exceptionally well.
You can dilute these solutions with water if need be. To clean, spray down your surfaces with the solution, scrub with a brush, and wait at least five minutes.
Step 4: Rinse cushions.
After you've cleaned your outdoor cushions with a solution, it's time to rinse them off. You can spray your pillows down with a garden hose, run them under the sink, or throw them in the washer if the fabric is compatible. However you decide to rinse them, be sure to remove any leftover cleaning solution residue.
Step 5: Let the fabric dry.
Finally, let your outdoor cushions and furniture sets dry entirely. Set your pieces of furniture in the sun, allowing them ample time to dry. You can squeeze out any excess water to speed up the process.
How to Keep Outdoor Cushions Clean
Doing a little cleaning regularly will keep your outdoor cushions from building up muck and grime. A simple cleaning routine can save you both headaches and money over time.
Tip 1: Develop a routine
Developing a consistent cleaning routine will keep your outdoor cushions in the best shape possible. This routine can be weekly, bi-weekly, monthly, or however often works for your schedule.
Tip 2: Remove any washable coverings
As mentioned earlier, removing any washable coverings is an easy step. Throw any washable surfaces in the wash regularly to avoid dirt and stains. Alternatively, you can bring these coverings in during harsh weather or during the night.
Tip 3: Vacuum the cushions
Regularly vacuuming your outdoor furniture will prevent damage from debris. This can be done bi-weekly or as necessary. Be sure to go over all the seams, buttons, and crevices.
Tip 4: Consider outdoor coverings
Patio furniture coverings (on Amazon) are a great accessory to consider. Throwing a covering on during rain, snow, wind, or at night can prolong your furniture's lifespan. Fortunately, these products are relatively cheap and widely available.
Be sure to find one that will fit your furniture set to avoid any returns in the future.
Tip 5: Use a fabric protector
Fabric protector solution is an excellent line of defense against stains, debris, and mildew. Products like 303 Fabric Guard (on Amazon) will shield your outdoor furniture sets against natural forces. If you take any tips with you from this article, it should be to use a fabric protector!
Tip 6: Clean up any spills immediately
Spills happen and are to be expected. However, if left untreated, spills can lead to stains and damages. Cleaning up spills as soon as they happen is one way to keep your outdoor furniture sets looking as clean as possible.
Best Cleaners for Outdoor Cushions
Each brand, manufacturer, and fabric type will have different needs and requirements. Some may need a quick hand-wash, while others require a complete power cleaning. To determine the best cleaner for your product, you need to know your furniture's recommended care methods.
Hand Washing
Hand-washing will work on most outdoor cushions and furniture sets. You can make your own hand-washing solution with a few simple ingredients.
1 tbsp mild dish soap (Dawn)
Take the ingredients listed above and mix well in a spray bottle. Spray down your furniture and scrub how you usually would. Let the solution sit for upwards of 15 minutes without letting it dry completely. Rinse off the solution and leave your cushions to air dry.
Machine Washing
We've mentioned removable cushions and machine washing quite a bit throughout this article. Machine washing is an incredibly convenient option if applicable. Read all labels and manufacturers' instructions before machine-washing to avoid any damages.
Before you wash your cushions, shake off any debris or dirt. You can use a vacuum or a dry brush for this process. Afterward, do any pre-treatments for stains or other issues. Finally, allow your fabric to dry after washing.
You can place your covers over your furniture while still slightly damp to stretch them into place.
Pressure Washing
Pressure washing can damage the fabric and outdoor furniture sets if done improperly. Some manufacturers don't recommend pressure washing, but doing so once or twice a year doesn't hurt.
If you're worried about your furniture, use a low power setting and go slow. You can also opt for cleaning solutions like Simple Green (on Amazon) for extra strength.
Mold and Mildew
For mold and mildew problems, you'll want to first brush off any debris with a brush. From there, you can make a simple cleaning solution of 1 part Borax to 4 parts warm water. Spray down your cushions and let the solution sit without completely drying.
Then rinse off the solution and let the fabric dry as you usually would.
If you need a more robust solution, you can use products like 30 SECONDS Outdoor Cleaner (on Amazon), which attaches to garden hoses. You may still want to consider diluting products like these, as they can be pretty strong.
Bird Droppings
For bird droppings, you can use the same cleaning solution recommended above for hand-washing. Be sure to wipe off any of the droppings before you begin. Using items like a microfibre towel can be a great help here. You can find multipurpose packs (on Amazon) for under $12!
How Can I Restore Outdoor Cushions?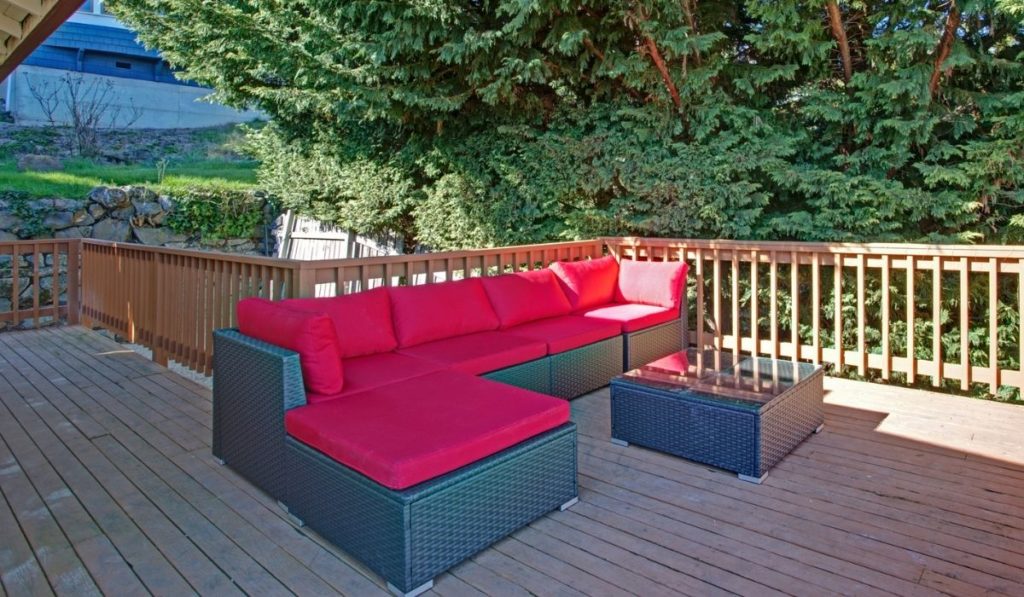 There are a ton of methods to restore outdoor cushions and furniture sets. Restoration can involve sprucing up a damaged item or completely altering it. The decisions will come down to needs, wants, and preferences.
Videos like this one are a great example of how you can completely change a piece of furniture while on a budget. By simply cleaning, resurfacing, and painting your cushions, you can achieve a brand new look.
In the video, she removes any debris and begins working on the fabric. She takes equal parts of water, medium textile, and paint to transform her faded fabric. The final result is a cushion that looks as good as new, if not better!
Another way to restore outdoor cushions and furniture sets is to maintain the other materials. Sanding, cleaning, and staining any wood surfaces will brighten up any furniture sets. Removing any rust and cleaning metals will bring back the shine your furniture sets are missing.
You can also buy new coverings or take your cushions to a professional. These options can be pricey and will be model specific. However, this can be an easy process and lead completely transform your old outdoor furniture.