Outdoor furniture can be equal parts practical and beautiful. Whether you're looking to soak up the sun while lounging by the pool or host the best backyard bash, there's furniture that will suit your needs. But what if your furniture's paint job could use an upgrade?
No matter what type of furniture you have, you'll need protective equipment, brushes, rollers, and drop cloths to paint it. Choose the appropriate paint for your furniture's material, then prepare the furniture by sanding it. Then prime it, paint it, and you're good to go.
There are a few things you should know before you begin comparing swatches, cushions, and designs. Different furniture materials require different types of paints and painting processes. So, what exactly do you need to know about painting outdoor furniture? Let's look at the details of how to pull these projects off, no matter what material you're dealing with, starting with the materials you'll want on hand.
What do You Need for Outdoor Furniture Painting?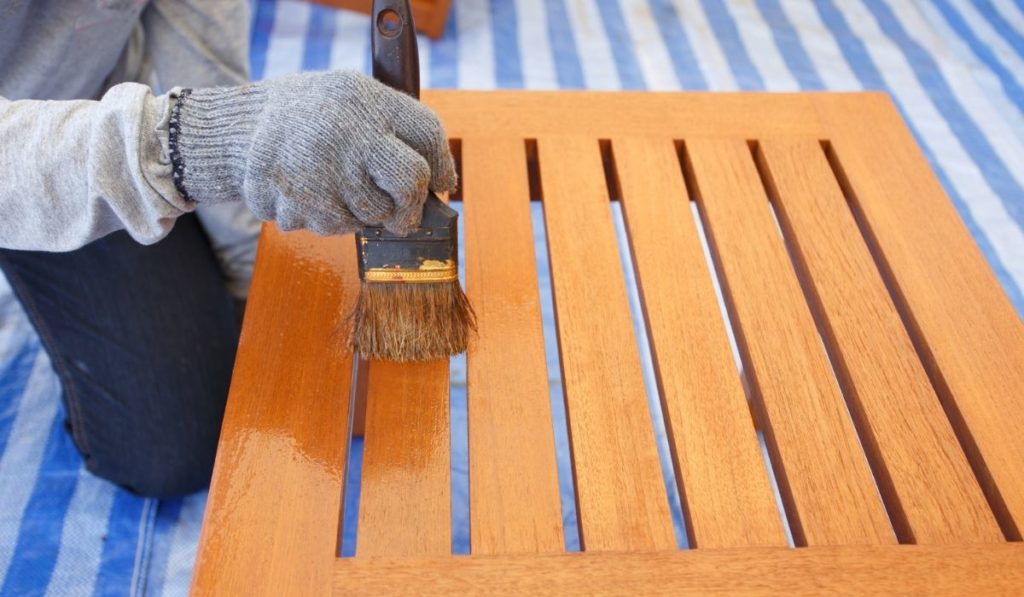 Each outdoor furniture project is going to require different tools and procedures. However, there are a few items you'll need for nearly every kind of outdoor project. Whether you're repainting wrought iron or staining wood, here are some tools you should consider picking up.
Protective Equipment
Safety is crucial to every project. Even simple processes like painting can cause irritation to your eyes or lungs and unnecessary damage. Purchase gloves, eye equipment, masks, and any other safety equipment (on Amazon) you deem fit before beginning. Doing so ensures you're at the lowest risk for injury and accidents.
Brushes and Rollers
Some of the main tools you'll need for outdoor furniture projects are brushes and rollers. Smaller brushes (on Amazon) work well for hard-to-reach areas and smaller pieces. Larger projects with more surface area will benefit from rollers (on Amazon). If you don't have any brushes, you can purchase complete sets (on Amazon) online or from your local hardware store.
Saw, Mallets, or Chisels
Tools like saws, mallets (on Amazon), and chisels can come in handy during woodworking projects. You can use these tools to remove or repair any damaged components. For example, you can use them to saw off broken and cracked pieces or chisel down any sharp or loose ends.
Drop Cloths, Rags, and Towels
For any painting project, you'll want to invest in drop cloths, rags, and cloth. Drop cloths (on Amazon) allow you to create a workspace without damaging the room or environment you're working in. Cloths and rags (on Amazon) come in handy in all types of scenarios.
Sandpaper & Abrasives
Wood furniture projects will require sandpaper for the best results. Sandpaper helps prepare surfaces for primer and paint. You can find multipacks of sandpaper (on Amazon) online for affordable prices.
Metal furniture projects will require abrasives. Tools like wire brushes (on Amazon) and steel wool (on Amazon) are effective at removing rust and grime from metal surfaces.
Other Tools
These are just a few of the tools you may need for painting outdoor furniture. Other useful tools include wood glue and filler for wooden projects, fine tip brushes, and special nozzles for your garden hose. Be sure to read and follow all instructions before starting your project to ensure your safety and the best end result.
How to Pick Garden Furniture Paint
Choosing the correct outdoor furniture paint for your project will affect the overall quality of your finished piece. When selecting garden furniture paint, you should consider your overall vision, location, and how much effort you're willing to exert.
Consider the Whole Picture First
Outdoor furniture is an extension of your home, style, and personality. Before you begin selecting color pallets and comparing brands, consider the bigger picture.
If you're going with bold colors, choose shades that will compliment your home's exterior. Include color inspirations from your garden, doorways, or even the surrounding landscape. Using complementary hues will give your home a more cohesive look, inside and out.
Weather/Climate
Don't forget about your climate, weather conditions, and location when choosing outdoor paint. If you live in an especially sunny area, you should get products that provide UV protection.
For wet and humid climates, you can find paints with rust and water-resistant properties. Selecting the right paint for your location will save you from having to reapply and service your furniture.
How Much Time are You Willing to Spend?
One factor you might not consider is the amount of time and effort it takes to paint outdoor furniture. Sanding, priming, and painting all take a considerable amount of time. If you're starved for time, choose projects with fewer steps.
Alternatively, you can plan to spend more time on a project, allowing you to do a better job.
How to Paint Outdoor Furniture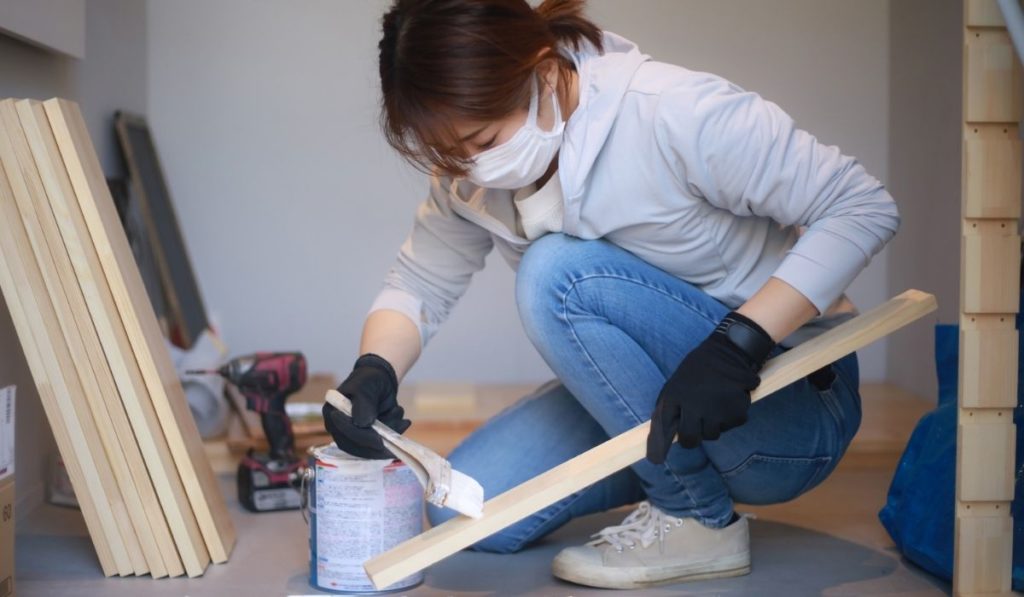 The type of material your outdoor furniture is made of will determine the painting process you need to implement. Each material comes with its own set of advantages, disadvantages, and best-use cases. One thing is for sure: properly preparing the surface of your furniture for painting is integral to the longevity of your finished project.
Preparing Wooden Furniture
Wood furniture may have the added benefit of being rust-proof, but that doesn't mean you won't have to prep and prime your outdoor pieces. In any painting project, preparing the surface is crucial to the final result and its longevity.
Prepare Your Work Space
Before you begin, it's best to clean and set up your area. Do so by moving your furniture to a well-ventilated and uncluttered location. Place the furniture you're going to work with on top of a large drop cloth. If you don't have a tarp or drop cloth, you can trash bags and newspapers.
Preparing The Wood
After you've cleaned and prepared your workspace, you can begin prepping your wooden furniture. During this step, you should repair any bits of damage or wood rot. You can also fill small holes and cracks with a wood filler to prevent further damage.
You should also wash and clean your furniture during this step. You can scrub your outdoor furniture with soapy water. Be sure to give your patio set enough time to properly dry before going on to the next step.
Priming and Sanding
Now that your area and furniture are prepped, you can begin sanding and priming. Use coarse grit sandpaper to begin and work your way to a finer 180-grit. Remove any flaking paint, air bubbles, or other damages. Be sure to pay extra attention to any cracks, nooks, or crannies.
Wipe away any excess dust or wood shavings with a tack rag. You can also use a white spirit to remove any lingering debris. Finally, after you've successfully sanded your furniture, you can apply an exterior coat of primer.
Exterior primer typically takes about eight hours to dry. Follow all of your primer's instructions and guidelines for the best results.
Painting Garden Furniture
After you've given your furniture enough time to dry, you can begin to paint. Be sure you're using the right tools for the job— smaller patio furniture requires smaller brushes, while larger sets benefit from rollers.
To begin painting, stir your can of paint thoroughly. Afterward, turn your furniture upside-down and start painting the underside. Allow the underside of your furniture to dry completely.
Flip your project over and repeat the process. Keep in mind that it's best to paint wood with several thin coats of paint instead of thicker coats.
Metal Furniture
When properly maintained, Metal furniture like wrought iron can last for generations. However, metal furniture is prone to rust. Metal should be sealed and primed before painting for the best results.
Prepare Your Work Space
Before you begin, it's best to clean and set up your area. Move your furniture to a well-ventilated and uncluttered area. Place the furniture you're going to work with on top of a large drop cloth. If you don't have a tarp or drop cloth, you can use trash bags and newspapers.
Clean The Furniture
After you've prepared your workspace, it's time to clean and prepare the furniture. If your metal furniture has rust on it, use a wire brush to scrape away as much as you can. Don't neglect the undersides of your furniture, the backsides, or the legs.
After you've removed the rust and grime, wash each piece of furniture. You can use a regular garden hose or one with a high-pressured nozzle. Alternatively, you can use a powerwasher if your furniture can withstand that kind of pressure. After you've rinsed off the excess rust and grime, dry your furniture thoroughly with a rag. Be timely with drying your furniture, as moisture causes metal to rust quickly.
Seal the Furniture
Sealing your outdoor metal furniture is an optional step. However, this step will ensure that your project is better protected and lasts longer.
You can spray your metal furniture with a rust converter or water-resistant sealant for an added layer of defense. These products are readily available in both sprayable and paintable forms. Select the product that's easiest to use and fits your circumstances.
Prime and Paint
As mentioned earlier, properly preparing the surface of your furniture is a crucial step. Priming your metal furniture is optional, but it's not recommended.
Choose a primer designed for outdoor metal furniture. Typically, the spray-on version is much easier to use than its counterparts. Follow all of your primer's instructions and guidelines for the best result.
After your primer has dried completely, you can begin to paint. Metal doesn't require as many coats as wood, so you can probably get away with a few light coats of paint. Afterward, move your furniture to a dry area that's covered and well-ventilated. Allow your furniture to dry completely before using it.
Plastic Furniture
It's not everyone's first instinct to paint their old plastic furniture since plastic doesn't hold paint very well. However, this can be a fun project that breathes life back into your patio. Just be sure to use plastic-specific paints.
Prepare Your Work Space
Before you begin, it's best to clean and set up your area. Do so by moving your furniture to a well-ventilated and uncluttered location. Place the furniture you're going to work with on top of a large drop cloth. If you don't have a tarp or drop cloth, you can trash bags and newspapers.
Clean the Plastic
Like all the other materials listed, you'll need to clean and dry your plastic furniture before you can begin. Wipe off any dust, debris, or stains with a standard washcloth. You can also spray down your plastic furniture with a garden hose to remove tough mildew stains. Give your plastic furniture ample time to dry before moving on to the next step.
Paint the Plastic
After your plastic furniture has completely dried, you can begin to paint. Be sure to use spray paint that is specifically designed for plastic furniture. Use light coats as you paint and allow your furniture time to dry between layers.
After you've finished, allow your plastic furniture to dry completely. You can store your outdoor furniture in a well-ventilated and covered area to avoid random damages.
Can You Spray Paint Outdoor Furniture?
Yes, you can spray paint outdoor furniture. However, spray paint doesn't seem to last as long as normal paint does outside. Spray-painted furniture is best-suited for covered areas or places with low traffic. Your mileage will vary depending on your type of furniture.