Like many others, your plastic outdoor furniture has probably served you well on numerous occasions. However, you've recently observed a fading appearance. You're undecided on whether to disregard the appearance, fix it, or replace it.
You can clean chalky residue off of your plastic furniture with a cloth and soapy water. You can clean mold and mildew off with a water-vinegar solution. Keep your outdoor plastic furniture inside or under cover when not in use and clean it regularly to prevent it from deteriorating.
Continue reading to learn why plastic outdoor furniture becomes "chalky" in the first place. We'll also tell you how to clean and protect your plastic patio furniture from oxidation.
Why does Plastic Outdoor Furniture Get "Chalky"?
Because of its durability and attractive appearance, plastic outdoor furniture has become the most popular type of outdoor furniture.
Outdoor furniture can be made out of three different materials: plastic, metal, and wood. You may have chosen plastic furniture because it can withstand a wide range of weather conditions.
On the other hand, your plastic furniture might have recently developed a "chalky" appearance. You're worried about having to start looking for alternatives to your plastic furniture. But there's no need to worry—that powdery appearance is just oxidation yellowing your plastic furniture.
Chemicals are released when outdoor plastic furniture is exposed to air and sunlight. When these compounds are exposed to ultraviolet light and oxygen, they oxidize, giving the furniture a "chalky" look.
But don't panic. Your plastic furniture can be restored to its former glory in no time. Continue reading to find out how to do so.
How to Remove Oxidation from Plastic Furniture
There are so many ways you can remove oxidation from plastic furniture that you will be spoilt for choice. We have some specific methods around what specific cleaner you use, but really this problem is going to be pretty flexible for you. Spraying the furniture down with the hose may get you 80% of the results with 20% of the efforts, for instance.
Wash Your Plastic Furniture and Remove Mold
Because oxidation is the plastic version of rust, it follows that thorough cleaning can do wonders for your plastic furniture. You will need a soft piece of cloth and soapy water for this. You should avoid using rough scourers because they can quickly harm your plastic furniture.
Ensure you wash your furniture thoroughly with soapy water, then rinse with a hosepipe. Fresh, clean water is preferred so as not to leave marks. Aim to at least clean your plastics once a month.
You might have also noticed that your plastic furniture has some mold and mildew. For this, you'll need a water-vinegar solution. Put a full cup of vinegar in a bucket full of water and mix thoroughly.
Put the mixture in Plastic Spray Bottles with Sprayers (on Amazon) and spray it on the plastic furniture. Then, allow it to sit for half an hour. After you've given it enough time for the vinegar to react with the mold, use a soft piece of cloth and rub gently on the affected areas.
You can repeat this process several times until you are sure that the mold is finished, then use a hose with clean water. Now, be advised that these two methods are helpful if the stains are not stubborn.
How to Prevent Plastic Furniture Oxidation in the First Place
While most of your outside plastic furniture will oxidize, there are a few things you can do to prevent it.
Use a plastic protector
One of the easiest ways to prevent oxidation is by storing your plastic furniture inside when not in use. The sun can cause a lot of damage to your plastic furniture. But this is only possible if your plastic furniture is small enough to be stored inside.
If your furniture is too large to be stored inside, it would be advisable to use a plastic protector. You can get very good ones on Amazon like 303 Aerospace Protectant (on Amazon) and Star Brite 59032 Outdoor (on Amazon).
Cover with a patio furniture cover
If you want to prevent your outdoor furniture from the effects of weather elements, a patio cover might be the solution. The qualities to look for are water-resistant covers, which cannot tear easily and UV protectors.
Look at our recommendations, KylinLucky Outdoor Furniture Covers (on Amazon) and Vailge Patio Chair Covers (on Amazon).
Regular cleaning
While this doesn't have to be done daily, you should frequently clean your outdoor plastic furniture. Cleaning with dishwashers or ordinary soap can go a long way toward minimizing mold and mildew formation.
Put Them in a Storage
You can store your furniture in a garage, a shed, a pergola, or another shaded area if you have one. Sunlight's UV rays can promote oxidation, so try to avoid them as much as possible.
Regular Waxing
Waxing your outdoor furniture can help keep it looking new for a long time. Before you wax, ensure sure the plastic furniture has been completely cleaned. It's also a good idea to use high-quality wax.
How to Remove Stubborn Stains from Plastic Furniture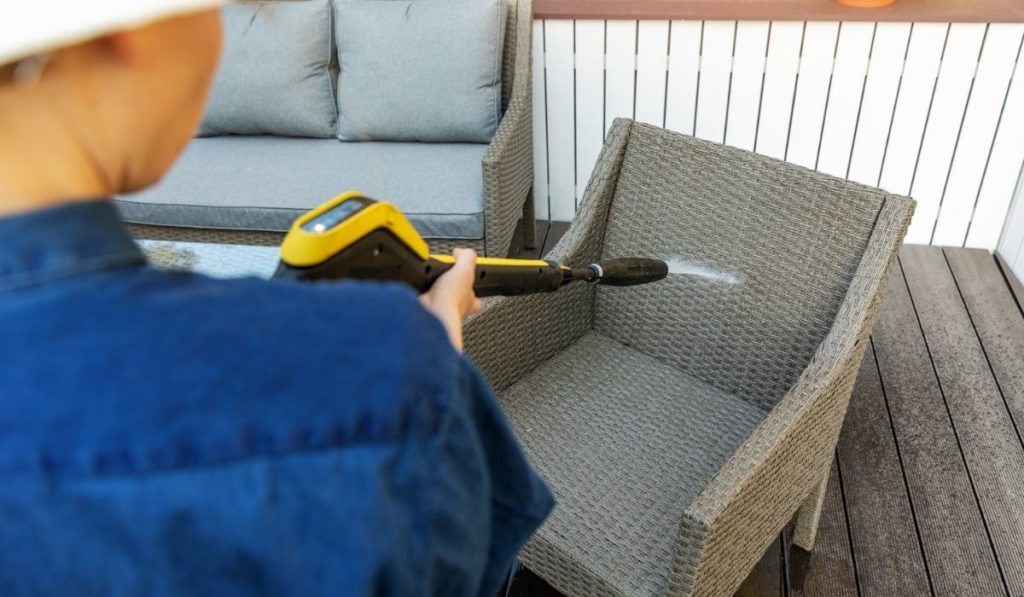 Mildly abrasive household cleaners
Because you already have them, household cleansers can be the simplest and cheapest option. Let's begin with baking soda. Baking soda is well-known for its ability to remove tough stains. Warm water, soft cloth or sponge, and plenty of baking soda are required.
Using warm water, dampen the sponge. Apply enough baking soda, depending on how persistent the stain is. Gently rub it into the stubborn stain. Allow the baking soda to sit for a few minutes before using it. Use a high-pressure water pipe once you're sure the stains are gone. Allow them to air dry.
Another mild abrasive cleaner that you can use is dishwashing liquid and bleach. These two can be of great service in helping you remove oxidation. However, you must note that whatever dishwashing liquid you use should not contain ammonia. Ammonia is known to contain chlorine that reacts badly with bleach.
For this, you'll need a gallon of warm/hot water, a sponge, bucket, bleach, and a dishwashing liquid. Mix three tablespoons of dishwashing liquid with ¾ cup of bleach in a bucket of warm water. You can then use a sponge or a soft cloth to apply to your plastic furniture. Rub the stains gently, concentrating on the stubborn areas.
If you don't have a dishwashing liquid, bleach alone can also work well. You will need a ¼ cup of bleach in a bucket of warm water. You should mix the two thoroughly. Use a sponge with the mixture to clean your plastic furniture. The point to note here is that bleach can be quite harmful to your skin, so you'll need to use protective clothing.
Plastic restorer
Another great way to remove oxidation from your plastic furniture is by using a plastic restorer. They are many types like 3D Trim Care (on Amazon), Ceramic Trim (on Amazon), or CAR GUYS Plastic Restorer (on Amazon).
The brands will each have different instructions; make sure you follow them. But all of them will have a simple procedure like this:
You need to clean your plastic furniture and make sure it is fully dry.
Apply the plastic restorer on a soft cloth and gently wipe the furniture.
If you want to apply for a second coat, make sure the furniture dries first.
Car wax
Using car wax to get a new look for your furniture is relatively cheaper. Because you probably have it already. It is also very easy to apply.
You need to make sure that you have cleaned your plastic furniture thoroughly and dried it. Then proceed to apply a light coat of car wax; of course, you need to follow the instructions on the container.
If you want your plastic furniture to have that shiny sheen, then buffing is the way to go. But make sure that the car wax you had applied is completely dry to prevent stripping it off the furniture. For that shiny, even look, don't target the parts that have been affected by oxidation only.
Using high-quality products like Detail Spray (on Amazon), Meguiar's Ultimate (on Amazon), and Turtle Wax (on Amazon) will prevent you from having to apply regularly.
Spray paint
The best thing about this method is that you can even change the colour apart from giving your "chalky" furniture a new look. The procedure is not as complicated as you might think:
Make sure your plastic furniture is completely clean and dry. You can even use a degreaser if you want. Here is one you can use Easy Off Specialty (on Amazon).
Place your furniture upside down on an area covered with either old newspapers, sheets, or pieces of cloth.
Spray in even coats while holding the can like 8 inches away. You need to note that some brands may require you to spray several coats. Those brands will indicate the number of coats for you on their cans.
When the bottom has dried, you can then turn your furniture. Spray the other parts evenly.
If you are unsure what type of spray paint you can use, here are our recommendations: Krylon Premium (on Amazon), Rust-Oleum (on Amazon), and Chalk Style Paint – for furniture (on Amazon).
Heat gun
Using a heat gun is one procedure that you should be extremely cautious about. So if you are not confident or don't know how to do it, leave it. You can easily burn your plastic outdoor furniture with a Heat Gun (on Amazon) if you are not careful.
If you are a beginner, the best thing would be to start with the underside. Starting with the underside will allow you to determine the proximity and the speed needed. At least the underside will hide some marks if you make a mistake with the heat gun.
Plug your heat gun in and select "high" settings. When the nozzle is hot enough, direct towards the affected areas. Whichever motion you use is not important.
The secret is to make sure you keep the gun moving to prevent burning a particular area. Make sure to repeat the above procedures in all areas that are affected.
Does WD-40 Restore Plastic?
You've probably come across a can of WD-40 while conducting basic cleaning around the house. You're wondering if it'll work on your faded plastic furniture. Yes, you certainly can.
WD-40 has a zillion uses, so knowing that it can give your plastic furniture a new look is a relief. If you don't have an old can, you can get WD-40 Lubricant Aerosol Spray (on Amazon). Make sure to heed any instructions provided on the can.
It is very easy to use, as you can see from the following procedure:
Make sure your plastic furniture is thoroughly cleaned and dry.
You can then go ahead and apply your WD-40. Make sure you wipe off any excess.
Using a dry clean cloth, rub it in gently.
And there you are, your plastic furniture is back to looking good again.
Summary
Oxidation can wreak havoc on your furniture's appearance. Previously, you may have believed that a replacement was the only option. Hopefully, you've seen how simple it is to restore the appearance of your plastic furniture.
Make sure to read more articles on how to take care of your outdoor furniture on our website.