A timber deck is one of the most beautiful features you can have in your house. However, to keep looking beautiful it requires maintenance.
If you're oiling a deck for the first time, there are some things you need to think about before you start. It will also depend on whether your deck is newly installed or if you've had it for years.
Below, you'll find all you need to know about oiling your deck, including why you need to oil regularly, how to know when the right time to oil is, and how to apply the oil for the best result.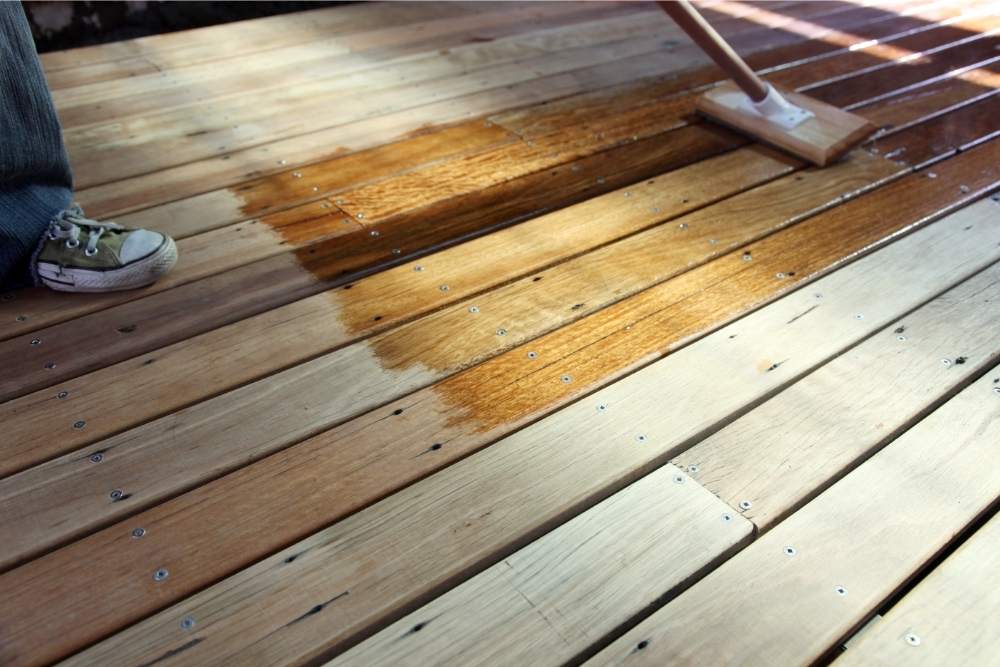 Why do you need to oil a deck?
Oiling timber decking not only keeps it looking beautiful, but protects it from natural weathering and foot traffic.
It's recommended to oil a deck every 12 to 24 months to keep it in good condition. While you can oil your deck yourself, it is also recommended to have it professionally done to ensure it is properly protected.
Does my deck need to be restored?
You can tell if your deck needs to be restored by checking whether it's still waterproofed. To tell if it's still waterproofed, pour some water onto a small area of the wood. If the water forms into a bead and doesn't sink into the surface your deck is still protected. If it sinks into the wood it needs to be restored.
Oiling new deck installations
If you've recently had a deck installed, you may be tempted to oil the deck straight away to remove the dullness and make it shine. But before you get started on oiling the deck, check with your timber supplier as some timbers need to have been exposed to the elements for 4 to 6 weeks before coating, and some need to be left alone for two to three months.
The reason your deck needs to be weathered just a little bit, is that it's full of tannins and oils that the sun and the rain will draw out, ensuring the timber surface is ready for the oil. If the oil is applied too soon, the coating can be ruined. To help in the weathering process, you can apply a chemical solution to the deck or hose your timber deck every couple of days.
Once the timber deck has weathered for the right amount of time, you can prepare the deck for the oiling process.
How do you oil a deck?
While it is highly recommended that you hire a professional to oil your decking, you can of course do it yourself as it is a fairly easy process. However, it is time consuming.
To oil your deck, you need to prepare it first. Before you oil your deck, make sure the deck has weathered as per the installer's instructions. Also check the weather forecast before you decide to oil your deck. The best conditions to oil your deck in is dry and sunny to make sure the oil penetrates the timber for an even coat.
Remove all furniture, plants, and other items from the deck and vacuum or sweep it with a broom. To clean dust and dirt from the decking use sugar soap and warm water with a stiff decking bristle brush. Rinse with a hose and then let it dry.
For an even deeper clean, the manufacturer of your decking may recommend an appropriate cleaning solution. You can lightly scrub your boards with this solution, then leave for 15 minutes and rinse off with a hose. A deep clean strips the old oil from the wood, but your deck may need to be left for a day or two before it can be oiled.
If you notice mold on your deck, use bleach on the whole surface to remove it. You can then use a hose to rinse off the bleach and allow the deck to dry. Before you use bleach though, contact your timber supplier for the best kind of bleach to use.
Once the decking is clean and dry you can add the oil.
You should choose an oil that will highlight the natural grain and texture of the timber. A good quality oil for your deck should be one that is easy to coat, is resistant to mold and fungus, offers UV protection and is water repellant. It's up to you whether you use a brush application or pad application. For larger areas, a pole extension with a pad application may be the best choice.
Once your deck has dried, lightly sand it to make it nice and smooth. You can then vacuum or sweep away the dust.
For oiling a new deck, you can apply the oil when the timber decking is cleaned and prepared. Make sure to stir the oil thoroughly before application, and read the instructions on the tin to get an idea of the drying time and how long you have to wait between the applications.
To apply the oil, run the pad or brush as far along a single board as you can, without touching any of the other boards. Do one row at a time, and once one row is done, move across the rest of the deck. You shouldn't rush the application, otherwise the penetration may be uneven. You can also ensure an event coat by using long, continuous strokes on each board.
Once the first coating has been applied, wait as per the instructions on when the next coat can be applied. You won't have to add as much oil the second time, as the timber won't be able to absorb it. Too much oil can make the deck surface sticky. Make sure to have a rag to hand to clean any spills.
Leave the deck to dry after the second coast. Depending on the weather it may be a day or two before you can return your furniture to your deck.
Once complete, you should oil and seal the deck every 6 to 12 months.