A floating deck is exactly what it sounds like. While it doesn't exactly "float" in the air like magic, these wooden decks are attached to a building. Instead, they rest on or low to the ground or, most preferably, on a bed of gravel, but typically don't require a handrail or staircase. They are usually supported by concrete blocks to keep the wood off the ground. This will also keep them away from moisture to help the wood last longer.
Floating decks are good because they are simple, attractive, and easy to construct garden features. They don't require any footing or much digging to place, and typically cost a fraction of the price of fitted decking. The main con for this feature is that they can easily be dangerous if they are not properly constructed. Floating decks overall are a really brilliant choice to consider.
A floating deck can be a very useful platform for you to place patio furniture, a grill, or even a hammock in your backyard. Today, we are going to discuss floating decks and whether they are worth building on your premises. We will look at the pros and cons of a floating deck so you can decide if they are the right idea for you at this time.
Floating decks: A good idea?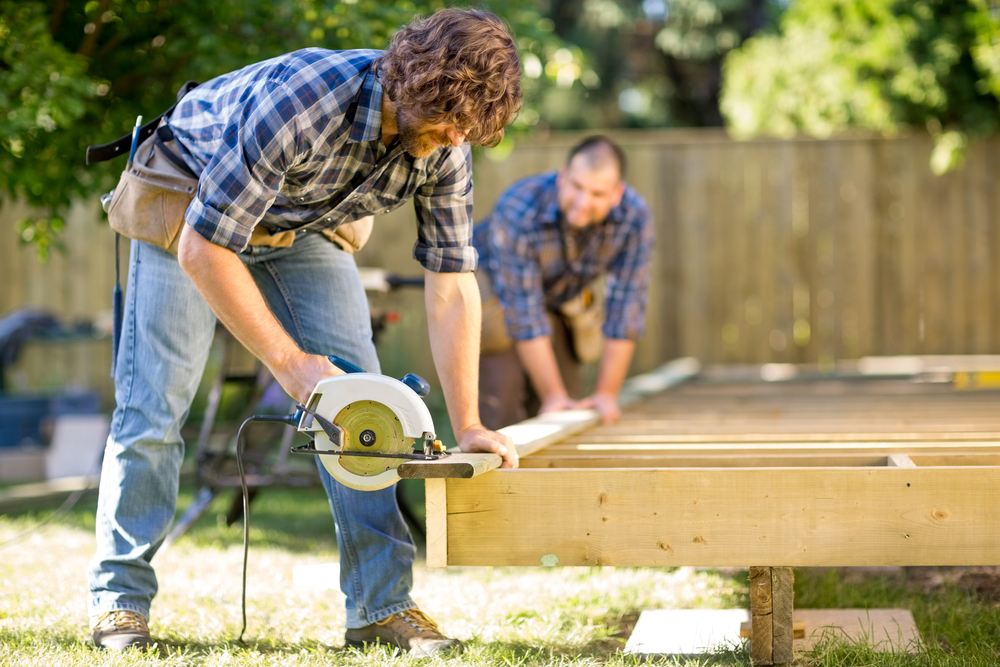 Designing a floating deck installation for your backyard is a great way of providing a level platform so you can set up chairs, sun loungers, grills, and more garden amenities. However, there are many questions to ask yourself first such as:
What type of deck do you want?
Do you need to dig frost footings or is a floating deck a better idea?
What are the pros and cons of building a floating deck?
Well, we are here to help you answer these questions. If you want a low ground level deck, less than 24 inches (600mm) above grade, then a floating deck is a good idea.
These decks are also a great idea if you have a tree in your backyard. This is because they can be built around a tree's roots so as not to disturb them. Moreover, floating decks tend to be more affordable than fixed decks.
While there are many pros of building a floating deck, there are also some drawbacks. We will go into these further down. Firstly, let's take a look at the pros of building a floating deck in your backyard.
The pros
The main reason a floating deck is a good idea is down to its footings and construction. Unlike a fixed deck, the floating kind does not require footings below the frost level. Instead, floating decks are built on blocks installed at grade whereas a fixed deck needs footings made below the frost level.
The frost levels differ from country to country and city to city. In Texas, the first level is between zero and around 12 inches (300mm) while in Winnipeg, Manitoba, it is 72 inches (1.8m).
No matter where you live, a floating deck will not require as much digging and will almost always cost a lot less than fixed decking.
It's always a positive if you're saving money, right? Well, that's exactly what you do with floating decks and, all in all, there are three main ways to save some dollars and time when building a floating deck:
Footing materials
Less time to build
Less dirt to get rid of
Footing materials vs frost materials
The price of these materials can fluctuate depending on the footing requirements and the area in which you want to build decking. Different regions require different footing requirements.
For instance, some areas that require 10 inches (250mm) diameter footings and 4 inches (1.2m) deep will cost $60. This covers the cost of concrete, forms, and a post saddle.
When it comes to a floating deck block, it may only cost $15 including base materials such as h gravel under the block. Added up, this can save you around $45 per footing with a floating deck being $200 cheaper when compared to a fixed deck.
Time to build
It's not all about saving money. Sometimes, saving time is just as important. Floating decks tend to take a lot less time to construct. However, this usually depends on how deep and how hard the ground is. In some areas, you may save approximately two hours per footing but this can vary wildly.
If you're building a small deck which only requires four footings, it may only take an afternoon. Instead of spending the whole day digging holes and mixing piles of concrete, you may only need to work on framing for a few hours.
As you can probably guess, the larger a deck is, the more time you will save when it is a floating deck compared to a fixed one.
Less dirt
Fixed decks generally have a lot more dirt to dispose of than floating decks. This is due to the deeper and wider holes needed for the base of the decking.
It is possible to rake the dirt under the deck or spread it around your home's foundation but, on most occasions, you will have to dispose of additional dirt from the footing holes. This is not such a big issue with floating decks as you do not have to dig up too much dirt in the first place.
The cons
There are some drawbacks to building a floating deck. If they are poorly made and move with the ground, it could cause the deck to collapse and cause serious injuries. However, this can easily be avoided with correct and proper construction. Ground level floating decks may also sink during the spring time but very rarely collapse.
Connecting to a house
Connecting a floating deck to your house is not recommended. This is because these decks can cause stress on a property's foundation and could potentially cause it to collapse. As the deck moves with the ground, the foundation will get pulled or pushed.
In Summary
On the whole, a floating deck is a good idea if it is low and not attached to your home. We also do not recommend building them too close to trees as their movements can damage some roots.
Floating decks will save you money and time during construction compared to fixed decks and in the end, you will have beautiful decking to relax on during the summer months.