Adding a deck to your home can transform the overall look of the house, and the backyard. Not only does it look great, but they are so much fun to use.
You can create cozy, open spaces in the backyard, or make a smaller deck just for you and some friends to hang out in after those beautiful all-day summer barbecues. However, building a deck is not cheap, and can quickly take a good chunk out of your budget. So, how can you build a deck cheaply?
What is the cheapest way to build a deck?
The cheapest way to build a deck is to do it yourself! Building a deck is simple, and is the perfect DIY job for first time woodworkers! This means that you do not have to pay for the labor or to hire a pro to install your decking.
There are so many guides and resources available online like this one (on Amazon) that can help you. The only issue is that it will take longer to build as you familiarize yourself with the concept. But, if time is no problem, then why not?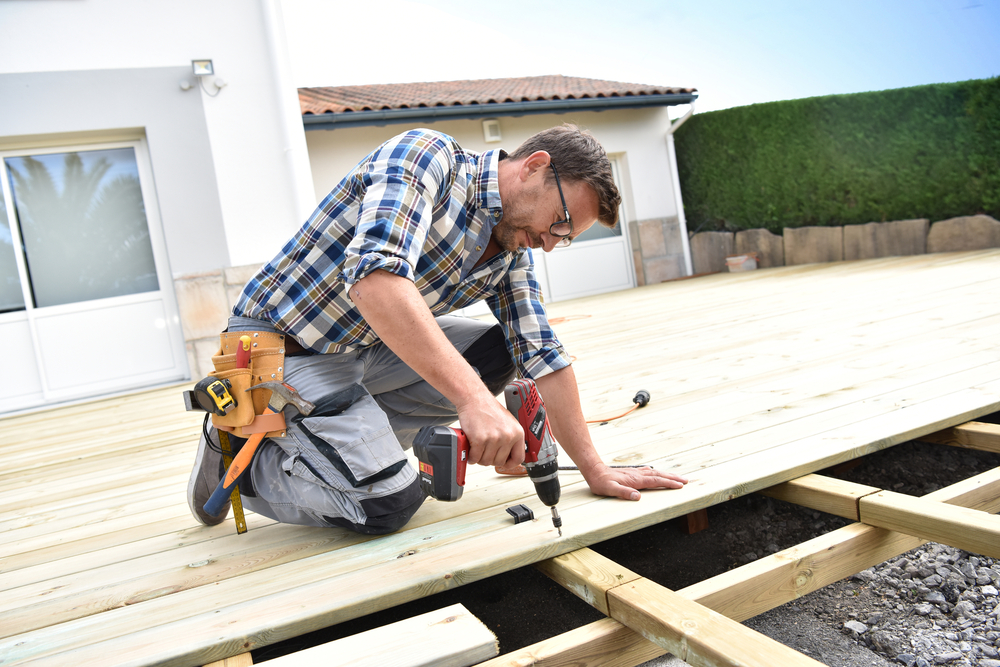 You can also build a deck on a budget by keeping things simple. Do not design a really intricate decking area with fancy features, just stick to a small, landscaped square area that will be easy to build and quick to install.
Skip the curved and bent decking, and plan it with the standard lumber lengths so you do not have to fuss! Square and rectangular decks are the easiest to build and work with!
To cheaply build a deck, you will also want to do your research around the cheapest and most cost effective materials. Treated lumber is a cheap and popular option, but you may want to consider investing in something stronger that will last longer.
Remember, it's not just about the initial costs, but the maintenance and overall costs further down the line!
If you do not want to build it yourself, then time the installation right. Try not to build it in the warmer months as everyone will want garden and yard work done then.
During these times, local contractors will be busier and will hike up their prices. If you hire contractors during the winter months, they may have reduced rates in order to get more business.
Is it cheaper to build a deck yourself?
Yes it is much cheaper to build a deck yourself as you do not have to cover the costs of labor, or hiring a professional to build a deck in your backyard. The good news is that building a deck yourself is pretty straightforward. All you have to do is build a basic frame using standard sized beams and top it with some decking material. All you need is some good knowledge of woodworking skills, landscaping and a little bit of engineering!
What is the cheapest deck material?
To cut back on costs, you can look at building your own deck with some cheaper materials. The cheapest decking material will be pressure treated wood, or chemical treated wood. These types of decks are the cheapest to build, however, you need to think about the long-term costs.
Wooden decks will need a lot of maintenance and you have to keep on top of them every year by staining, treating and painting them, otherwise, they could wear down and break down quickly, which will result in replacing or fixing the decking fairly soon.
You are better off using composite decking as this will save you money in the long run. Even though it is more expensive to purchase, it lasts so much longer, and you do not have to stain it every year or replace it anytime soon.
Composite decking boards can last upwards of 30 years, whereas cheaper wooden materials only last about 10-15 years, if that.
How much does it cost to build a deck yourself?
If you want to cut down some costs, then you should be aware of how much the average deck will cost to build, just to give you an idea. To give you a general consensus of the cost of a deck, most entry level decks built with basic materials cost about $14 per square foot, whereas a deck built with the finest, premium materials will cost you about $35 per square foot.
For instance, a deck size of about 8 x 10, or 80 square feet will cost anywhere between $1,200 to $2,800. If this is the case, then a 10 x 10 deck or a 100 square foot deck can cost anywhere from $1,500 to $3,500, and a 10 x 12 or a 120 square foot deck will cost about $1,800 – $4,200.
This is just the average cost of materials, so we are not even including the cost of labor, as you may want to consider building the deck yourself. However, you also have to think about how long this will take if you are the only one building it, and having to build it in your free time outside of work or other commitments.
Does a deck add value to your home?
Despite the initial costs of building a deck, it is a great, stunning and valuable addition to the home. For instance, a deck does actually add monetary value to a home and not just aesthetic value. On average, the addition of a premium deck can cost you about $13,000, but the resale value is about $10,000, so you are actually recouping about 75% of your cost once you decide to resell the home!
So, how much should I spend on a deck?
If you are ready to build your own deck and add one to your home, then think about the overall cost before starting. The average cost to build a deck is about $25 per square foot, with most home owners spending between $4,000 and $10,000 on a brand new deck in total.
With that in mind, you can try to cut costs on materials, and build it yourself, but make sure that you consider the overall upkeep of the deck too, to ensure that it lasts for the years to come!