Are you looking to seal the joints on your deck but aren't sure where to start? Perhaps you have heard whispers of Deck-O-Seal but are unsure what it is, if it's suitable, or how to use it? Have you found yourself in a state of panic, unsure how to seal and complete your deck?
Well, panic and worry no more! Today we are here to help seal your deck joints and get you the answers you need! Keep reading to find out what Deck-O-Seal is and how to use it successfully! Prepare to have your deck joints sealed and stand the test of time.
What is Deck-O-Seal?
Let's get straight into it! Deck-O-Seal is a self-leveling liquid used for caulking and sealing joints! The two-part polysulfide-based joint sealant is premium grade and sure to provide you with the sealing you want and need!
It provides a firm, weather-tight, and flexible seal, making it perfect for sealing joints on swimming pools and decks.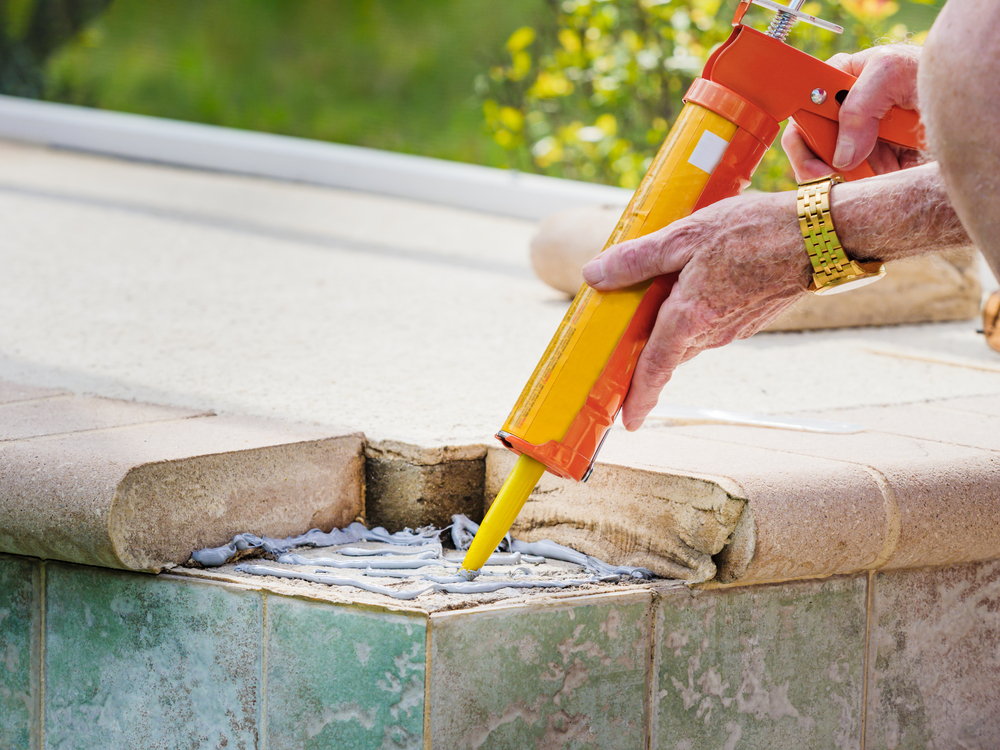 The non-staining sealant is extremely resilient and is sure to stand the test of time! It can resist most chemicals, weather conditions, aging, and shrinkage, making it ideal for use on your decking or pool joints.
It can stay flexible under extreme temperatures and won't crack or become brittle thanks to the exposure from the SUn and her UV rays.
Deck-O-Seal won't discolor when placed under the hot sun or today's pool or deck cleaning chemicals. Check what you can't use Deck-O-Seal with on the label. Keep the bottle out of sight from children and pets and store it in a cool area.
Unopened, Deck-O-seal has a shelf-life of one year from the time of manufacture. Be sure to use it within this time for best results. After this time, the mixture will lose its consistency and won't perform as well as it should.
You can also purchase Deck-O-Seal in a few color options, either white, gray, or tan. You can also order redwood, black, or other custom colors, but these special orders can take a little longer to arrive!
As good as Deck-O-Seal is, it does come with some precautions. You will not be able to use it in asphalt concrete pavement or with expansion joints impregnated with asphalt. It's also advised that you do not paint over Deck-O-Seal, so be sure to get the color you want!
Don't use the sealant underwater either, Deck-O-Seal offers suitable options that can be used under the waterline, but it's best to have a professional come and complete this work for you!
You can find local contractors in your area trained in joint sealing applications that can complete this or any other work for you if you aren't sure how best to approach it.
Now that we have covered what Deck-O-Seal is, let's move on and take a look at how to use it!
How to use Deck-O-Seal
When it comes to using Deck-O-Seal, you can follow the guide below that we have provided. Remember that this is just a guide and that you should follow the advice on the label of Deck-O-Seal and contact a professional if you are unsure about completing the work yourself.
You will need to wear protective glasses and gloves when handling Deck-O-Seal and completing the work.
Let's get into it!
Preparation
Before beginning, remove all debris, water, dust, dirt, or other items from the joint opening. You want a clean and dry joint for successful adhesion. Any concrete should also be completely cured and free from curing agents or other debris that could get in your way.
Apply 2-inches wide masking tape to the surfaces on either side of the joint before applying Deck-O-Seal, too, as this ensures minimal mess once the work is done.
Prime
While you can use unprimed concrete just fine, it's recommended that you prime the area with Rezi-Weld LV if the joint is subjected to hydrostatic pressure, is submerged underwater, or is over 1-inch wide.
Ensure that you allow ample time for the priming treatment to dry before undertaking the work.
To prime the joint successfully, follow the instructions on the label or ask a professional for guidance or help.
Consider your joint sizes here too. You need to follow the correct joint design practices and techniques for successful results. Use the correct joint backing material to control the sealant depth and offer the correct joint configuration.
Larger joints will need a non-asphalt joint filler before sealing with Deck-O-Seal.
You can ask a professional for assistance with priming your joints; if you aren't sure, just make sure that any product used is safe for use with Deck-O-Seal.
Ideally, you will want a 2:1 width-to-depth ratio for successful results and joints built to last! Check your measurements beforehand and make any adjustments if needed before using Deck-O-Seal.
Mixing
Deck-O-Seal comes in pre-measured kits with a ratio of setting agent to base that you must maintain. Do not mix the product until you are ready to use it, as you can't reseal and use it later.
To mix, take the rims off both cans using a can opener. Mix the small can first and then pour it into the larger can. You want to pour the setting agent into the base and mix slowly.
For best results, scrape any residue from the sides and bottom of the container until you have a uniform color. Continue to mix the mixture for at least 10 minutes.
You can use a slow speed drill here if you wish, but take care to ensure that all the setting agent has been blended with the bases components and that there is no air trapped in the sealant.
Application
Once the mix is prepared, you have about an hour to use it (at ambient temperature). Apply the sealant with the supplied squeeze bottle, caulking gun, or any suitable applicator.
Once applied, remove the masking tape from both sides before the sealant begins to set. Within 24 hours, your sealant will become firm and rubbery. It might take longer for it to set in colder temperatures, so consider this when applying Deck-O-Seal.
Cleanup
Clean any equipment used with xylene or toluene to remove any residue or sealant before it sets and becomes difficult to move. Dispose of the masking tape and paint cans correctly, keeping them away from pets and children.
Final Word
And just like that, we have come to the end today! As you can see, Deck-O-Seal is a fantastic substance that allows you to seal deck or pool joints with ease. Remember to follow all the safety precautions required and prime and prepare the area before use for successful results!